Product datasheet - LED-RF-2
You can now buy this product with
25%
discount!
LED controller, miniaturewith remote control
12-24 VDC, 12 A
Item number:

LED-RF-2

(EAN: 5997374189767)
Discounts Sep 3, 2020 up to
Discount:

25%
Net price
9.27023 EUR

6.95267 EUR
Gross price
11.77319 EUR

8.82989 EUR
LED-RF-2
12-24 V DC
12 A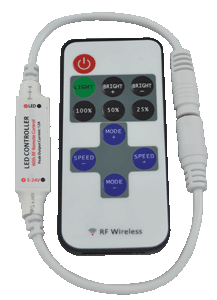 By use of MRGB controls, the LED tapes are suitable for pre-programmed plays of light.
The controls shall be included in the driver's 12 – 24 VDC circuit, between the tape and the driver. The MRGB controls can be programmed by their own pushbuttons. The MRGBT version is suited for remote control by a radio-frequency accessory unit; the remote control unit needs not to "see" the receptor unit. One control unit is suited to control LED tapes up to 5 m length.
Tracon code
Rated voltage
Version
Controlled parameters
LED-MRGBT
12-24 VDC

Radio-frequency
remote controller

ON/OFF, light intensity,

pre-programmed plays of light,

speed regulation