Product datasheet - TTV-D15
AC Surge arrester, Type 2
5kA, 1P
Item number:

TTV-D15

(EAN: 5997374144643)
Product is currently not available
The type 2 surge protectors are applicable to discharge overvoltage occurred by switch-type (8/20µs wave-form) over currents.
The type 2 arresters must install into sub-distribution boards (at condominium into distribution boards of flats) after main distribution boards containing type 1 arresters.
For proper operation between type 1 and type 2 arresters at least 10- 15 m cable or wire must be otherwise a decoupling coil have to install between the two devices. These protectors are modular types with changeable insert.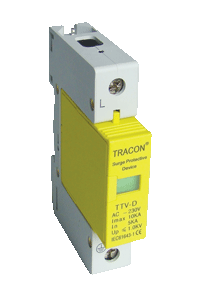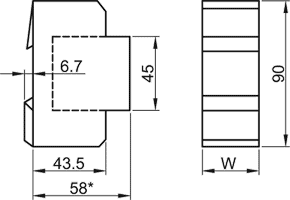 Tracon code

Number

of poles

Rated current
In (kA)

Imax

(kA)

Signing voltage
Up (kV)

Max. voltage


Uc (V~)

Insert

colour

Insert version

W

(mm)

TTV-D15

1

5

10

1,0

385/440

yellow

replaceable

18