Product datasheet - TSKA10-K
You can now buy this product with
20%
discount!
Industrial screw terminal, rail mount, blue
0,5-10mm2, 800VAC, 76A
Item number:

TSKA10-K

(EAN: 5997374143943)
Discounts Sep 3, 2020 up to
Discount:

20%
Net price
1.01855 EUR

0.81484 EUR
Gross price
1.29356 EUR

1.03485 EUR
The TSKA industrial terminal blocks family has several connection joints, insulated from each other. They are mainly used in industry and in measuring circuits, in control and energy distribution boxes. The terminal blocks can be used for jointing of circle section copper wires. The highly heat resistant, strong, self-extinguishing (according to UL94-V0) polyamide plastic house with good electrical parameters – witch contains the electrical elements - , is shaped in a way to permit the terminal block to be fixed onto mounting rails according standard EN 50022 ("hat" or "C" rail).
Neutral conductor terminal blocks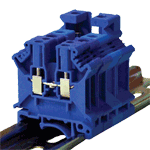 They have same construction as the general purpose terminal blocks, however due to its blue color plastic house is suited for jointing the neutral
conductor, being visually different from the phase conductor.
Tracon code

Terminal block
type

Un (V)

In (A)

Wire mm2

Dimensions (mm)

Stripping
length (mm)

Max.
torque (Nm)

solid

twisted

W

L

H

M

TSKA10-K

Neutral

800

76

0,5-16

0,5-10

10,5

43

47

M4

10

1,2
Tracon code

U central
link
10 modules

Marginal link

End
plate
Bridging
link
Circuit
spacer
Segment
spacer
Measuring
adaptor

Mark
bars

Test
plug
End
brocket
(3)
2 modules
3 modules
10 modules

TSKA10-K

USF10

SF132

SF133

SF130

VL4/10

HL10

EL102

SZEL101

MAM4

J10

BDPS

RE1