Product datasheet - TSKB1/3K
You can now buy this product with
20%
discount!
Three poles industrial spring terminal, rail mount, blue
0,14-1,5mm2, 500VAC, 17,5A
Item number:

TSKB1/3K

(EAN: 5997374144087)
0,14-1,5mm2, 500VAC, 17,5A
Discounts Sep 3, 2020 up to
Discount:

20%
Net price
1.67141 EUR

1.33713 EUR
Gross price
2.12269 EUR

1.69815 EUR
The spring terminal blocks were designed mainly for jointing control circuit wires in 0,2 mm
2
- 6,0 mm
2
cross-section range in good quality, quick and reliable way. The terminal block can accommodate unprepared rigid wires, or twisted or flexible wires equipped with cord-end terminals or male lugs. The highly heat resistant, strong, self-extinguishing (according to UL94-V0) polyamide plastic house with good electrical parameters – witch contains the electrical elements - , is shaped in a way to permit the terminal block to be fixed onto mounting rails according standard EN 50022 ("hat" or "C" rail).
Three conductors through terminal blocks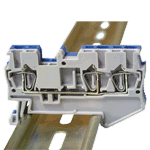 They are most useful when wires with different construction, type and crosssection on the same circuit shall be jointed. They are available in neutral conductor version (blue), too.
Tracon code

Terminal block type

Un

(V)

In

(A)

Wire (mm2)

Sizes (mm)

Stripping
length (mm)

solid

twisted

W

L

H

TSKB1/3K

Three contacts, neutral

500

17.5

0.14-2.5

0.14-1.5

4,3

60,5

36,5

10
Tracon code

End plate

Bridging links

Separating
plates

Marker:

middle

Marker:

side

Test female
Block
marker
End
brocket

2

modules

3

modules

10

modules

TSKB1/3K

-

AH1,5/2

-

J5

JB04

EKB

KJ-A

REB